Capital of the State of Puebla
Historic Center of Puebla
Location and site
Between the two ranges of the Sierra Madre, not far from volcanic summits, Puebla is situated in a high fertile valley at 2,000 m. above sea level. Southeast of Mexico, it was on the route that connected the capital to the port of Vera Cruz, close to the pre-Hispanic city of Cholula.
Urban morphology
Puebla extends through the Cuetlaxcoapan Valley as a rectilinear grid made up of relatively wide streets. While most of the major arteries follow the regular orientation of the plan, one main street, the "Diagonale de los Defensores de la Republica," crosses the city on a diagonal. Puebla's Zocalo, the central esplanade of the historic area, is considered one of the great achievements of colonial urban planning.
Puebla is a large city with several sumptuous 18th-century Baroque churches and a number of convents. Its colonial architecture is famous for its colourful glazes (azulejos). This material, which is used for the cupolas of the churches and the walls of the dwellings alike, ensures the unity of the architectural landscape.
Registration criteria
Criterion (ii):  Puebla's strategic location on a major transportation corridor permitted the exportation of its regional style of Baroque architecture, a fusion of European and indigenous styles, after the 16th century. The urban design of the historic centre based on a Renaissance grid plan has exerted a considerable influence on the creation of colonial cities across the country.
Criterion (iv): As an untouched urban network, the Historic Centre of Puebla is composed of major religious buildings such as the Cathedral, the churches of Santo Domingo, San Francisco, and the Jesuit Church, superb palaces including the old archbishop's palace the location of the Palafox Library, the university, and many houses whose walls are covered with gaily coloured tiles (azulejos).
Historical reference
The colonial site of Puebla played a major role in the history of New Spain and Mexico. Its urban design, which dates to the 16th century and was inspired by the Renaissance, influenced the development of other cities in the New World.
In 1539 Puebla became the Episcopal See and then experienced rapid development. By the 17th century, it had supplanted Cholula, which was 12 km. away.
After enjoying prosperity in the 18th century, Puebla became the site of a series of confrontations in the 19th century. In particular, it was the site of most of the popular struggles related to the establishment of Independent Mexico and the revolutionary movement of 1910.
In 1862, the French expeditionary force was defeated by the Mexicans in Puebla; this feat is celebrated on Mexico's National Day. Following the Reform laws of 1857, and especially after 1880, the city underwent development, including the construction of new parks and avenues which, since 1950, have enjoyed spectacular growth in all four directions.
Photos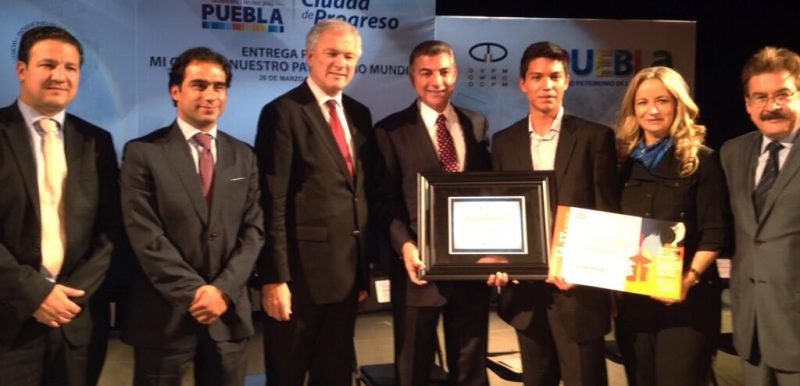 ---
Sr. Eduardo Rivera Pérez

Presidente Municipal
Ayuntamiento de Puebla

Juan de Palafox y Mendoza 14 Col. Centro de la Ciudad de Puebla
Puebla, México
C.P. 72000

01 (222) 309 43 00 Ext. 261
[email protected]

Sra. Berenice Vidal Castelán

Gerente del Centro Histórico y Patrimonio Cultural
H. Ayuntamiento de Puebla

Calle Tlaxcala No. 47, 2do. Piso, Col. San Rafael Oriente
Puebla, Puebla, México
72020

3 09 46 00 ext. 6030
[email protected]

Sra. Vanya Ponce Valerio

Jefa de departamento
Dirección de inventario de monumentos y regulación de áreas patrimoniales

Ayuntamiento de Puebla
Puebla, México
72530