OWHC-AP Regional Secretariat meets Korean Youths to promote World Heritage
Gyeongju, Republic of Korea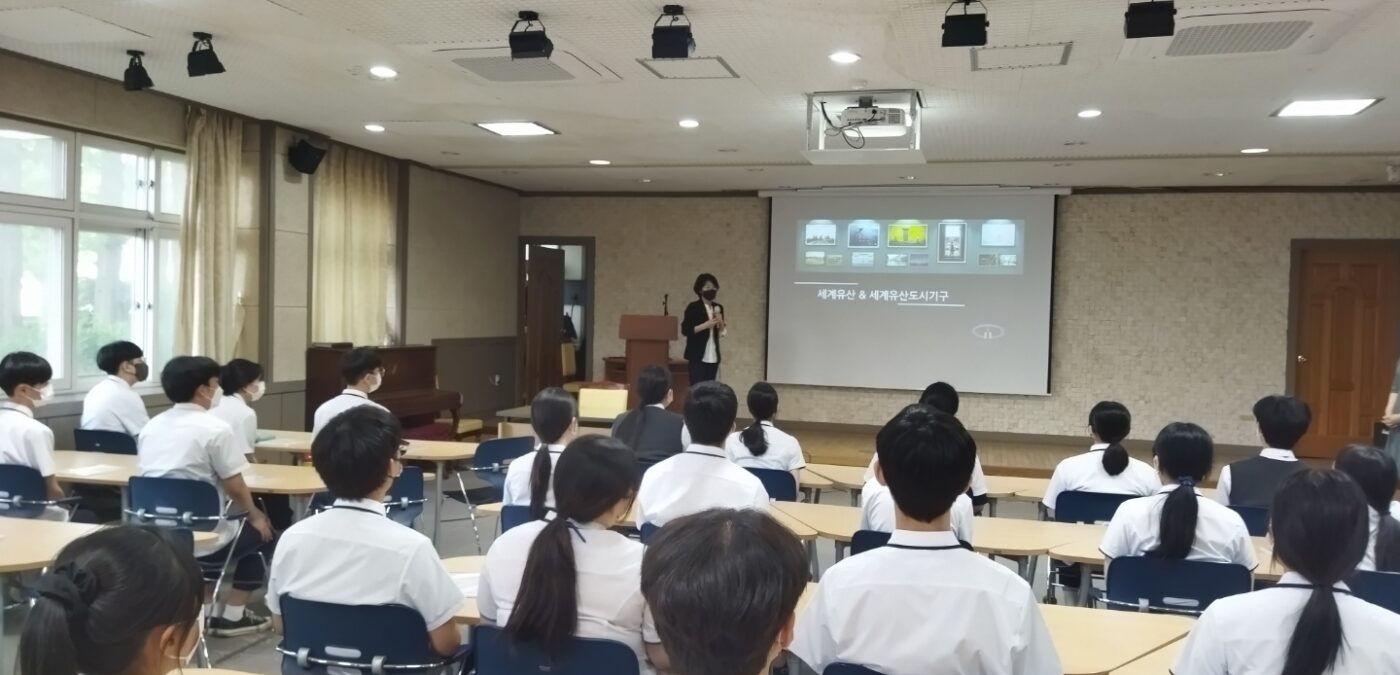 On May 20th, the OWHC Asia-Pacific Regional Secretariat(OWHC-AP RS), in Gyeongju, Republic of Korea, visited Samil Technical High School located adjacent to the UNESCO World Heritage Site of Hwaseong Fortress in the city of Suwon, Republic of Korea, for an educational session on World Heritage and World Heritage Cities.
40 high school students ranging from the 9th to 10th grade who were interested in World Heritage and World Heritage Cities actively took part in the session delivered by Dr. Jieun Lee, the Cultural Heritage Advisor of the OWHC-AP RS. The session consisted of a concise introduction to the background and concept of World Heritage, a video on the subject, a short discussion and a Q&A, the latter of which the students actively participated in. In addition, students had the time to learn about the roles and activities of the OWHC General Secretariat and the OWHC-AP RS from the session.
The OWHC-AP RS plans to visit more high schools located in other World Heritage Cities – Jongno-gu, Gongju, and Gyeongju – in Republic of Korea. The OWHC-AP RS will expand the scope of this program to include students in the OWHC member cities outside of the South Korea. This will strengthen the international and intercultural communication and exchanges between youths all over the world.
The OWHC-AP RS also promotes its Metaverse H!GH Heritage Hand-in-Hand camp, which is scheduled to take place between August 2nd and 4th. The camp, to be held on the ZEP platform, will be comprised of educational sessions on World Heritage, Metaverse Production, true/false questions on World Heritage, OUV Exhibition Hall, Maze games. Youths from all over the world can participate in this virtual camp. More details will soon be available on the website of the OWHC-AP Regional Secretariat and others.