Community-Led Urban Strategies in Historic Towns – COMUS (2017)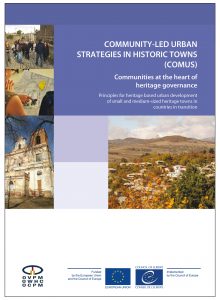 Authors: the European Union, the Council of Europe and the Organization of World Heritage Cities (OWHC)
­
Category: Reference Books
­
Year: 2017
­
Language: English
---
Summary: The COMUS project "Community-Led Urban Strategies in Historic Towns" aims to demonstrate how cultural heritage and its regeneration can provide opportunities for the financial, social and cultural development of a town (heritage based urban development).
Therefore, the European Union, the Council of Europe and the Organization of World Heritage Cities jointly developed a community-based, cultural heritage-led, development methodology and tested in nine pilot towns in Armenia, Belarus, Georgia, the Republic of Moldova and Ukraine.
This publication shares the wide-ranging experiences gathered during the implementation of this methodology, presenting its key technical and organisational principles, with the aim of applying this methodology successfully elsewhere.