Chief city of the County of Gotland
Hanseatic Town of Visby
Location and site
Visby is located on the northwest coast of Gotland, the largest island in the Baltic Sea. About 100 km. from the coast of Sweden, the site is terraced and its port, today silted up, is ice-free.
Urban morphology
Inside Visby's fortifications walls, the configuration of the streets dates to the 13th century and seems to reproduce the layout of the earlier Viking settlement. The streets lead from the gates to the port. Around the port, three parallel streets are crossed by lanes. The streets, with their spontaneous layout and variable width, are paved with limestone, stones, and granite slabs.
The urban landscape, which is dominated by the cathedral, is made up of some 200 houses of 5-7 stories, old limestone warehouses that were transformed in the 18th century, and the vestiges of about 15 churches. The principal construction materials are reddish roof tiles and stone, sometimes decorated with brick.
Registration criteria
Criterion (iv): The Hanseatic Town of Visby is an outstanding example of a North European medieval walled town which reflects with remarkable completeness its essentially late 13th-century form and function as one of the most important trading towns of the Hanseatic League between 1161 and 1360.
Criterion (v): Visby is a characteristic example of a traditional human settlement that has evolved over time through continuous adaptation to the medieval form and function. This has resulted in a townscape in which the medieval walled trading town has been retained with distinctive layers over time until the present day.
Historical reference
In the early Middle Ages, the island of Gotland established a trading post at Novgorod. By the 10th century, it dominated the maritime trade of Northern Europe.
Following a trade agreement with Lübeck in 1161, Visby became one of the first cities of the Hanseatic League and its principal center on the Baltic Sea. It was the only town on the island that possessed the right to trade with German towns. Besides the Germans, Russians and Danes settled in Visby, and each constructed churches and guild halls, as well as warehouses, near the port.
The international influence of Visby severed its earlier links with the other ports on the island and led to their decline. A stone wall of 3.5 km., flanked by 40 towers, was erected around the city in the 13th century.
In the 14th century, Visby lost its central position on the Baltic Sea and in the Hanseatic League. Struck by the Black Death in 1350, the island was invaded by the Danes in 1361. In 1396 it was occupied by the Vitalian Brothers, a group of pirates who were thrown out by the Teutonic Knights in 1398. An armed attack by Lübeck in 1525 led to the decline of Visby.
The island was ceded to Sweden as part of the Treaty of Bromsbrö of 1645. A century later, its new prosperity was accompanied by a period of construction and reconstruction, mostly in stone.
Source : https://whc.unesco.org/en/list/731/
Photos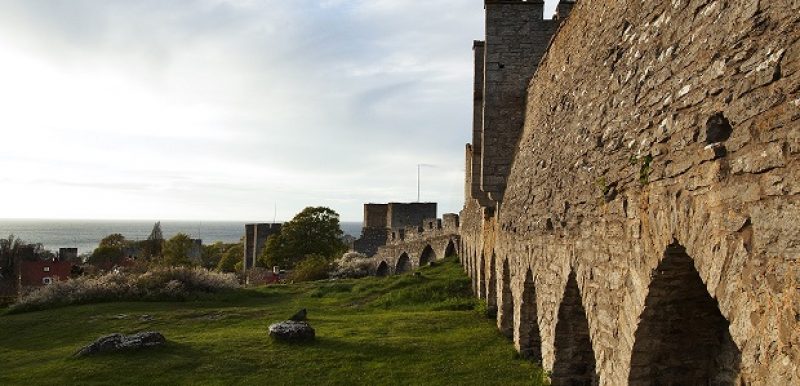 ---