Coloring Poster for Kids – 24 cities of Northwest Europe and North America in large format!
Kids are bored in lockdown? Everything seems so grey? No longer! With our large format coloring poster, the Regional Secretariat for Northwest Europe and North America presents its 24 member cities in a suitable version for younger kids to be colored in and drawn on. And by the way, kids learn about the multiple facets of our heritage, about delicate architecture and funny statues in our World Heritage cities.
Two versions a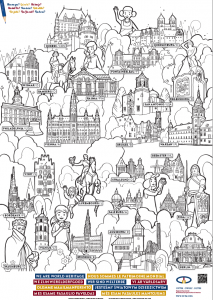 re offered to be downloaded and printed at home: a large poster format in A2 or A3, as well as a split-up version in four pages of A4 so that also younger children can easily color in. All member cities did receive their print-data file and can include their logos and then have posters printed for distribution for their next events – and get our young heirs involved to give color to our cities.
If you would like to download the poster, use these links:
OWHC_ColouringPoster_download_420mmx594mm
OWHC_ColouringPoster_PrintAtHome_4Parts_210mmx297mm
Distribute the links on your social media chanels as well – and have fun yourself (coloring is also allowed for adults)!