Regional Conference North-West Europe on "Resilience" was a success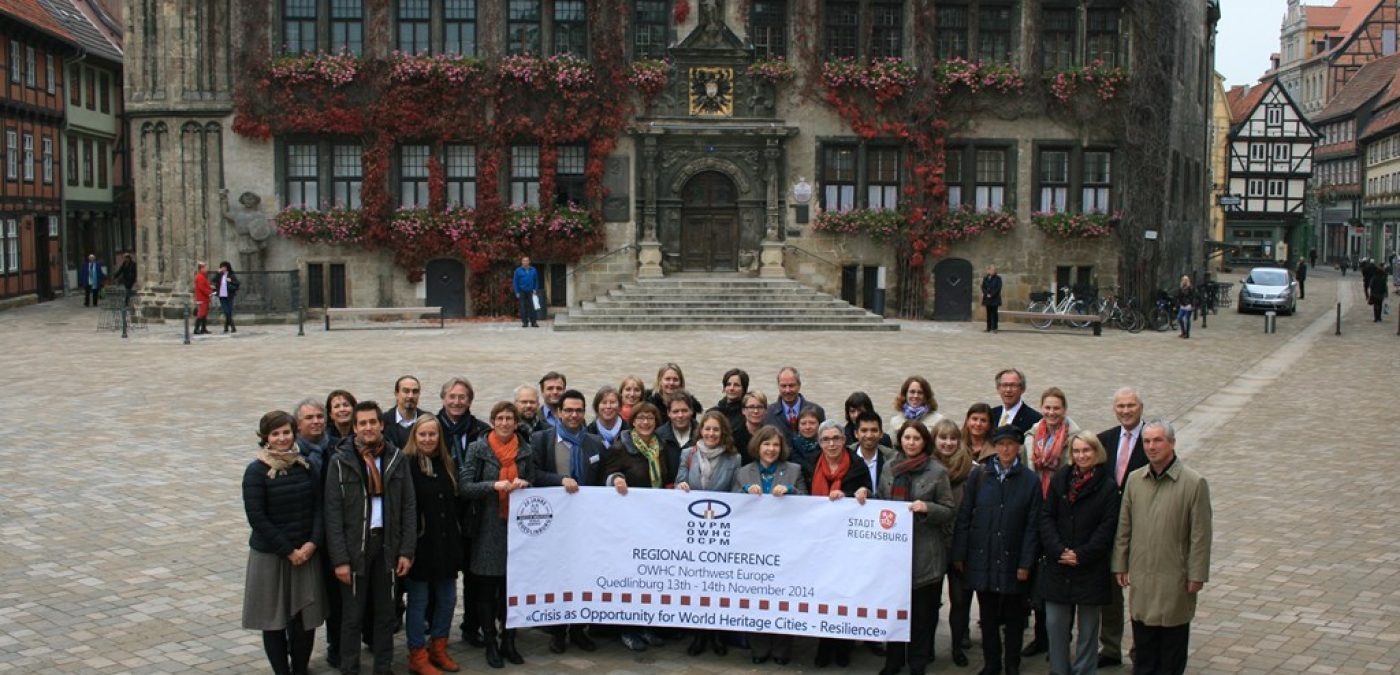 Growing Network of OWHC World Heritage Cities in North-West Europe
Regional Conference on the topic of "Crisis as Opportunity for World Heritage Cities – Resilience" successfully completed
From 13th to 14th November 2014, the Regional Conference of the OWHC (Organization of World Heritage Cities) for North-West Europe took place in the city of Quedlinburg/Germany. More than 40 representatives from 20 World Heritage Cities from all over Europe discussed how the new concept of "Resilience" (flexibility of organisations to cope with and react to threats and changes) can be established for the protection and development of historical cities. In that concept, the historical substance of a city does not stand for an obstacle, but can rather be seen as an important resource: these cities have proven through the centuries that they know how to cope with threats and changes and how to adapt.
Joachim Wolbergs, the Mayor of Regensburg, welcomed everybody in his opening speech and stated: "I am deeply impressed by the interest and solidarity of our world heritage cities that I can experience here in Quedlinburg. The exchange of expertise makes all of us stronger and helps to cope with the many challenges our cities have to face now and in the future. The city of Regensburg will support and organize further on this important exchange with the seat of the Regional Secretariat of OWHC."
With a diversified conference programme, organized by Regional Coordinator Matthias Ripp and Monika Göttler, the audience could learn about resilience from different angles in several expert speeches. For example, the World Heritage Coordinator of Bamberg, Mrs Patricia Alberth, explained the very practical approach of Bamberg's gardening tradition to foster resilience in their World Heritage City. From the member city of Warsaw, representative Anna Zasadzinska talked about Resilience and Reconstruction in the very special case of Warsaw after World War II destruction. With a key note speech on "Enhancing the UNESCO World Heritage label for sustainable urban development" from Dr Carola Neugebauer, associate professor at Aachen University, the participants were asked to critically see the status of their own city and what the world heritage label means for it.
The conference programme was accomplished by informative and diverting Pecha Kucha presentations. Several member cities took advantage of this condensed method for giving a short overview on different aspects of resilience in their work. It also offered a perfect platform for the new regional member cities, Salzburg/Austria and Philadelphia/USA, to introduce themselves to the audience. Quedlinburg as host city celebrates this year its 20th anniversary of the World Heritage title and demonstrated through the presentation of their Management Plan on behalf of Lord Mayor Dr Brecht the huge efforts they took to achieve it. With more than 2000 historical timber-framed buildings, Quedlinburg is like a picture book of history for this special type of construction. Above that it counts with a total size of more than 80 hectares amongst the largest heritage ensembles in Germany.
Special thanks to all participants for sharing knowledge and experience and discussing the topic vividly – and to the city of Quedlinburg for hosting the conference!