How to become an OWHC member
Your city would like to become a member of the OWHC?
Here are the steps to follow:
Your city, on the one hand, has a site located within its territory which represents a living urban ensemble or a property within an urban context inscribed on the World Heritage List whose Outstanding Universal Value (OUV) is recognized by UNESCO's World Heritage Committee and which meets at least one of the criteria (i)(ii)(iii)(iv)(v) or (vi) of the Convention Concerning the Protection of the World Cultural and Natural Heritage and, on the other hand, adheres to the values of the OWHC.
Yes: Go to point 2
No: Become an observer member*
*An observer member represents any city that does not meet with the conditions of admission of a member as mentioned in point 1, but is interested in being a part of the OWHC network.
2. If yes, are you the Mayor, a City Councillor or the person in charge of heritage in your City?
Yes: Send us a request for membership
No: Contact one of those persons in your city so he/she can send us a request for membership
---
Services to the OWHC members
Any city wishing to become a member of the OWHC (as a member or observer member) must pay an annual membership fee, in which case it will be entitled to the following services offered to each category of membership: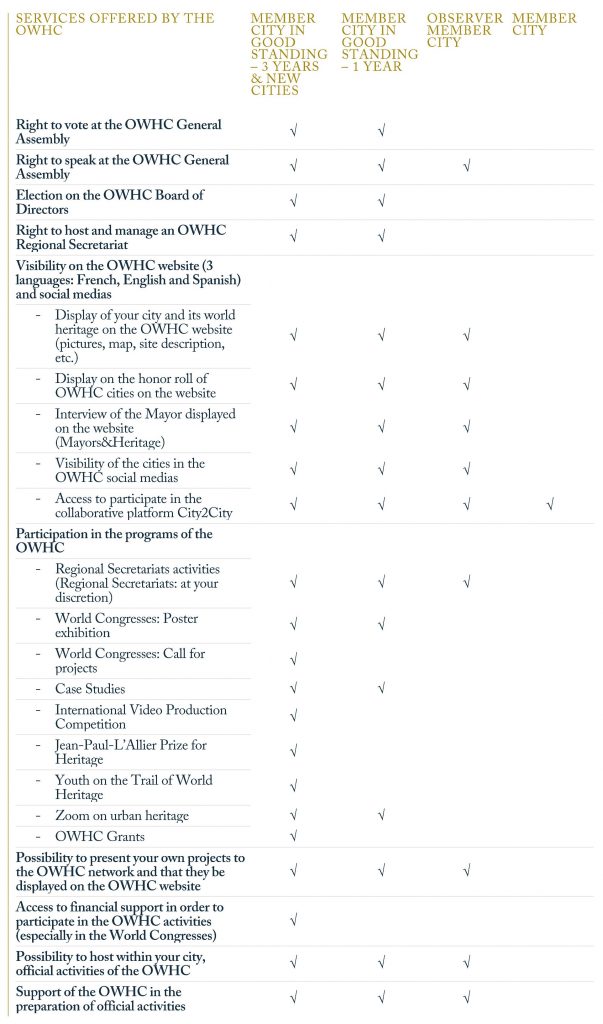 Download PDF format: Services offered to the members
---
Request for information
For any additional question regarding your request to join the Organization of World Heritage Cities as a member or an observer member, please contact the General Secretariat at the following address: secretariat@ovpm.org.