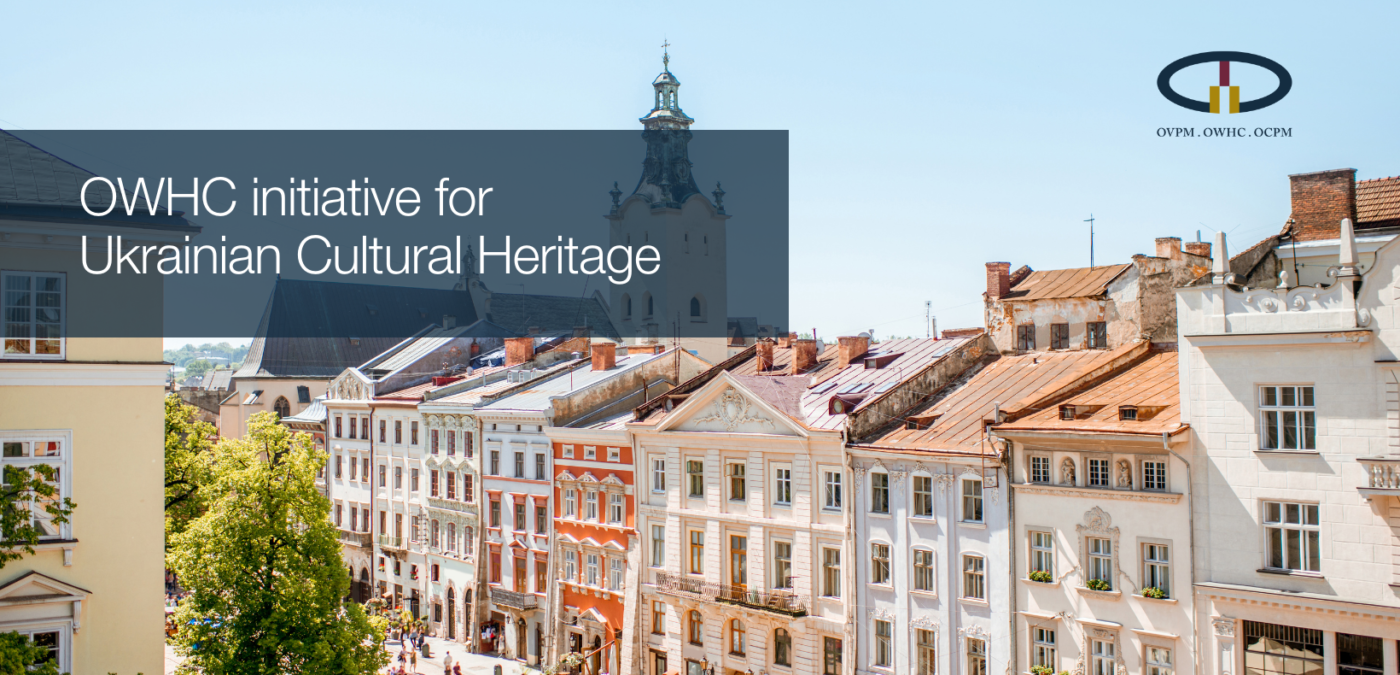 GoFundMe Fundraising Campaign
As part of the Appeal addressed by the President of the Organization of the World Heritage Cities (OWHC), Mr. Jacek Majchrowski, Mayor of Kraków [hyperlien], and referring to the appeal for support addressed to the international community by the L'viv City Council and the Board for the Protection of the Historic Environment of L'viv, the OWHC General Secretariat is launching the "Organization of World Heritage Cities Initiative for Ukrainian Cultural Heritage" (OWHC-IUCH).
The OWHC General Secretariat encourages Mayors, elected officials and heritage managers of all member cities, as well as partner organizations and collaborators, to disseminate as widely as possible the present call for funds which is addressed to all private individuals, as well as public and private institutions, conservation services and companies engaged in the protection and restoration of cultural heritage.
Ukrainian citizens in L'viv – OWHC member city – and other historic cities are being mobilized, despite their perilous conditions and humanitarian emergencies, in protecting their built and cultural heritage in areas partially affected by the war, but also in heavily damaged areas like in Kharkov, to save what still can be saved.
Participate in the OWHC's Ukrainian Cultural Heritage Initiative!
Make a donation!
---
The multicultural and multinational cultural heritage of Ukraine is exposed to irreversible loss and irreparable destruction. It includes seven World Heritage sites – primarily in L'viv and Kiev. Ukraine is home to national archives, libraries, museums, art galleries, religious buildings, palace complexes, art collections, historic necropolises, as well as sites commemorating the tragedy of the Holocaust, several of which have been placed on UNESCO's Memory of the World List. Many historic sites, including sacred buildings, have already been destroyed in the Eastern Ukrainian territories.
The OWHC-IUCH prioritizes the collect of funds with the aim of supporting Ukraine in different circumstances:
In priority, buying required material in bordering countries of Ukraine (Poland, Slovakia, Hungary, Romania, Moldova) with the aim to urgently protect cultural heritage before being damaged. Funds to be collected will enable to buy: foam and powder extinguishers fire blankets and other non-flammable firefighting fabric, mineral wool to protect stained glass and windows in museums, fire helmets, nonflammable clothing, sandbags, etc.
Supporting the emergency work (safe storage of objects or archives, consolidation of damaged buildings, securing sites, collect of reusable material, etc.)
Accompanying restauration and reconstruction processes
The OWHC Regional Secretariat for Central and Eastern Europe (CEER) based in Warsaw (Poland) will be coordinating this initiative through a dedicated Task Force involving OWHC member cities.
Krakow (Poland), which is actively engaged in humanitarian actions of diverse types, will act as operational hub for the initiative, assuring storage of the material to be purchased and delivered from various places, and organising the transport toward Ukrainian border.
Refugees and any other volunteers from bordering countries are invited be involved in the collect and delivery processes. Volunteers and professionals in Ukraine will get the material at the border and use it effectively. This way to proceed will limit logistical and administrative difficulties.
The OWHC-IUCH will be adapted according to the evolution of the situation in the field and of the needs.
We thank you for your generous donations and for supporting this unique initiative for Ukrainian cultural heritage.